Confessions of an Aging Adulterer is now available for purchase in paperback and ebook format from Amazon.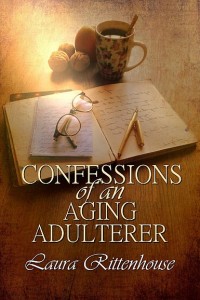 Confessions of an Aging Adulterer tests the concepts of honesty and relationships on the anvil of deceit and betrayal. Vicky, a woman old enough to know better, finds herself in the midst of a heart wrenching affair. Her children are grown and her marriage is comfortable, Vicky should be content. But she's not and she can't figure out why. Her New Year's Resolution is to put her thoughts and torments down in a diary. Her goal is to understand how her life drifted so far off course. Eventually she hopes to return to the life she loved, the life she's sure is right for her.
Confessions spans one year in Vicky's life. Her family – husband, son, daughter, sister and brother-in-law, play large in her story. As the year progresses, Vicky learns she's not the only one living a double life, not the only one projecting a face to the world that is different than the person behind the mask. As the scales fall from Vicky's eyes, all that's left is the unanswerable question: what life is right for her?
Available now.
Read an excerpt of Confessions of an Aging Adulterer.
There's a brief explanation of my motivation for writing Confessions here.